A moraine is soil, rocks, and debris that accumulate underneath and at the edges of glaciers. Moraine State Park received its name because at least four continental glaciers reached their greatest extent near the park, leaving their signatures on the landscape. The gently rolling hills, lush forests and sparkling waters disguise a land that has endured the effects of continental glaciers and massive mineral extraction. Thousands of people visit the 3,225-acre Lake Arthur yet never realize that many people helped restore the park from prior coal mining and oil drilling practices. Today, the park is an outstanding example of environmental engineering achievement.

The park is open daily from 8 a.m. to sunset. Park information, launch permits, cabin information and assistance can be obtained at the park office near the entrance to the South Shore. It is open year round Monday through Friday 8 a.m. – 4 p.m. and weekends during the summer. A secondary office at the Davis Hollow Marina on the North Shore can provide marina applications and general park information. It is open 8 a.m. - 4 p.m. Friday through Tuesday from April 15 through October 30th.

Park Office: (724) 368-8811
Marina Office: (724)-368-9346
Address: Dept. of Conservation and Natural Resources, Moraine State Park, 225 Pleasant Valley Rd., Portersville, PA 16051-9650.
Website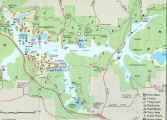 Click image to enlarge

Picnicking: Tables, charcoal grills, and restrooms are located throughout the day-use areas and the marina. Seven pavilions may be reserved up to 11 months in advance for a fee. Unreserved pavilions are on a first come-first serve basis.

Swimming: Swimming is permitted at two beaches. The Pleasant Valley Day Beach on the South Shore is a 1,200-foot turf and sand beach. Lakeview Beach on the North Shore is a 550-foot sand beach. The beaches are open from Memorial Day weekend through Labor Day.

Fishing: Lake Arthur is a warm water fishery. Common species are northern pike, largemouth bass, channel catfish, black crappie, and bluegill. The Pennsylvania Fish and Boat Commission stock muskellunge, walleye, channel catfish, and hybrid striped bass. Fishing is not permitted from: boat docks, launching or mooring areas, in the marina coves at Davis Hollow and Watts Bay, in the Game Propagation Area, off of bridges, where posted, and within 100 feet of beaches or boat docks.
Boating: Boats may use motors of 20 horsepower or less. Non-powered boats must have one of the following: state park launch permit or mooring permit available at the Park Office; or a current PA boat registration. Boats registered in other states must have a PA park launch or mooring permit. Sailboats, motorboats, canoes, kayaks, paddleboats, and pontoon boats can be rented at the Crescent Bay Area on the South Shore. At the Davis Hollow Marina and Watts Bay on the North Shore are docking facilities, offshore mooring, dry mooring, and canoe/sailboard racks. A limited number of transient spaces are available for short-term stays. Motor fuel is available at the Davis Hollow Marina.
Windsurfing: Barber Point, near the Lakeview Beach on the North Shore, is a popular site for windsurfing. A state park launch permit is required for sailboards, and life jackets must be worn while windsurfing.

Bicycling: A paved seven-mile bicycle trail winds near the north shoreline between the Marina Restaurant and the Bike Rental Building in the northwest corner of the park. The trail is not a loop. The trail can also be accessed at many places in the Lakeview Beach and Watts Bay areas. Bicycles may be rented between Memorial Day weekend and Labor Day, and weekends in April, May, September, and October. There is a six-mile loop trail for mountain bikes on the North Shore.

Camping: There is no camping in the park, but there are nearby private campgrounds. There are, however, two primitive camping areas available for organized groups, Muskrat Cove and Five Points. Advance reservations are required.

Cabins: Eleven modern cabins are available for rent year round. These cabins sleep six people and have a dock on Lake Arthur.

--This information was obtained from a DCNR publication, "A Recreational Guide to Moraine State Park."